Kickass Low Budget Marketing Ideas
" Less is more. Keeping it simple takes time and efforts."                                              
 -By Jeff Bullas 
Many business owners work under the assumption that because they have a zero budget on marketing there is not much they can do to promote their business.
Is it really true?
Of course not.
Marketing isn't about how much money you spend it is about how much you do. If your budget is tiny or rather zero, you need to be creative & brave. And we are lucky that we have a range of online opportunities available at low cost or no cost, because of that marketing has become actually an easy process than used to be.
Still not convinced?
Well, to be honest even the biggest businesses tend to find it hard to drive their business in the right direction. Sometimes even they tend to break their banks to try to come up with many new ways through which they can gain many customers while at the same time engaging the existing ones.
Remember Google Plus?
Even Google couldn't get its Google Plus running and despite of deep pockets and millions of dollars spent, it has finally shut down GooglePlus.
There is no magic bullet.
I literally have no clue which one will work for you because I don't know you. I don't know your business, I don't know your customers.
But fortunately, you DO know your business! You know your customer base! It's just that you are not taking that step to market your business only because you have no budget.
But I am pretty sure that after reading this guide you will have an awareness of a few marketing ideas and tools even if you don't have an asset of cash.
Zero Budget Marketing Ideas to Accelerate Your Business Growth
Let's get started.
1. Design a Logo & Get Business Identity at Low/ No Cost
By looking at the above image need I say more?
Yes, you got it right, what I am trying to say.
A logo is the best representation of any brand or business. It is a vital step in your branding. It's not just a random image. It builds identity, perception. Logo reminds people
Who you are
What you do
What do you stand for
And how you can help them
Give some thoughts around these points and come up with a vision statement. Use some of the cost-effective or free services to design logo e.g. with Vistaprint you can design Logo for free if you order their merchandise, use Fiverr design service
Tools:
Vistaprint, Fiverr, Free Logo Design, Canva, Spaces' free logo maker
2.Craft An Elevator Pitch(Speech)
If you are marketer then you should be marketing all the time – wherever you are. Therefore you need a gripping elevator pitch.
Research shows the average attention span of an adult is at its lowest (thanks to technology) and it is about 6-8 seconds. So that's all the time you have to grab someone's attention.
If you succeed in that then you have little over a minute to engage them and successfully convince them to sell or use your product or service. Plat out and invest a good amount of time to craft a killer elevator pitch.
If you want to stand out from the crowd then,
Be brief
Be Creative
Be compelling
That means you first need to identify your goal. For instance, do you want to tell potential clients about your organization? Explain what your organization does to solve their problems and how you help them. Remember the point of an elevator peach is not to close the deal but to advance you to the next point in the sales process.
P.S Elevator pitch is nothing but a landing page in inbound marketing.
Want to learn more about how to craft a kickass elevator pitch?
Read this: (Introduction Pitch) Cruicial Component of a Sales Proposal
Tools:
Use free landing page templates at Colorlib, Unbounce, Instapage 
3. Leverage Your Social Media Connections
If you are looking for a marketing idea that doesn't even cost a cent then engaging with your followers or connections on social media is a good place to start.
Surprised?
Well, don't just check your messages, post some content and sign off.
Social media is the first and foremost a platform where your voice can be heard. Take some time and start building the relationship you are connected with. The stronger the relations you build online, the more likely that these connections may turn into something worthwhile in the future.
LinkedIn is the best social network for this as it allows you to connect with other professionals who may know someone who needs what your brand has to offer.
Tools:
Create business pages using Twitter, Facebook, Linkedin
4. Build a Presence In Online Forums
Whether your business is small or a giant one, whether it sells goods or services but it is really essential to build a strong, focused and relevant online presence.
As far as the zero budget marketing strategy concern web presence is the strategy that provides the best return on investment. It allows you to reach a wide audience without spending a penny.
Click To Tweet
How?
Join the conversations online by getting active in the comments section and joining relevant groups.
Answer questions.
Offer others advise.
show some support for leads and customers when thy expresses some relevance challenges.
And most importantly, get to know those who show some interest in your services and help them by sending some content that can solve their problems.
The goal is here not to spam but rather to build authentic connections with a healthy and meaningful conversation.
Tools:
5. Look For Opportunities For Guest Blogs
We all know that blogging on our own site is the best strategy to market your business. But do you know blogging on another site can also help you bring in more traffic to your website?
Awesome, right?
Guest blogging can help you connect with influencers, grow your list and otherwise grow your business.
And the best part is it's absolutely free!!!!!
The only thing that will cost you is your time for researching the guest blogging opportunities and writing a quality article to post on.
It helps you reach the new audience because you are publishing your content with backlinks to your site in a fresh new place where readers of that particular site may not have been exposed to your site.
Tool:
Your searching ability 🙂
I will leave it to you. Plan out and research targeted sites.
6. Design Winning Email Marketing Campaigns
If your company or business isn't utilizing email marketing, should you?
Of course yes!!!
Email marketing campaigns is one of the most effective zero budget marketing strategies. It is still a powerful method to turn a visitor into a paying customer.
Why?
Because it gives full access to connect with your audience and promote your brand. There are a lot of things that you can do with emails like sell products, share some news or tell a story.
By sending personalized emails to subscribers, you can show them that you are a real, live person with their concerns and interest in mind. With personalisation you can get your emails stand out in the inbox.
Don't be afraid of emails! You don't need to hire an expensive copywriter or a design firm there are many tools which can solve your problem.
You just need to focus on writing some message. And if you have a website, include a sign-up form on it that will help you build an email list. While doing email marketing is also important to keep a track of how many emails you send, because you don't want to bombard your email list with communications. But you also don't want them to forget about your brand.
Develop campaigns surrounded by promotions and also some important topics that provide value to your subscribers. Within emails, you can give links to your blogs, ebooks or other contents that your potential leads and customers will find it helpful.
Tool:
7. Speak Up For Success
In the digital age delivering a live, in-person message is more powerful than ever before.
Donald Trump is a very talented Salesperson. He has the ability to hold the attention of an audience and nobody can deny.
Communication is the key to success. It allows us to form connections, influence decisions and motivate change. It affects simple, everyday interactions between co-workers, bosses, employees, and marketing professionals and clients, etc can have an enormous impact on your level of success in your industry.
How you can start?
Well, there are many organizations looking for qualified, subject- matter experts who can present to their groups. You just need to step up and volunteer. You don't really have to be a pro as long as the information you share is helpful to the audience.
And remember 'the more you do the more it gets easier."
Tool:
8. Repurpose Your Content
Quality content takes time and effort to publish. I am sure you know this if you regularly publish new content. But you can still get more mileage out of your blog posts even you are not able to produce new content on a regular basis.
How?
It's really simple, by repurposing the content that you already have on your website. It is so important to update your old blog post and present them in front of a brand new audience. It is one effective way of getting more eyeballs to your website.
There are many ways you can repurpose your content,
Give life to your blog by updating the data with new statistics and research.
Develop infographics from the data you have gathered in the blog.
Take one blog and transform it into a completely new medium like convert blog into a vlog
Free Tools You Can Use
9. Give Out Free Samples Of Your Product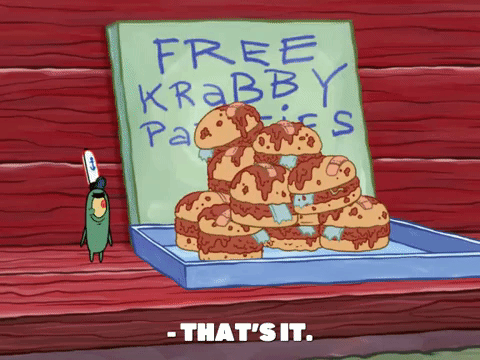 If someone gets an opportunity to experience your product or service for free then the chances are they will want to purchase from you more in the future. A business owner should never hesitate to provide a trial or a sample.
But if you own a furniture business then it is not advisable to give away a free sofa to see if the customer likes it. Instead, you can provide a sample of the material you are going to use to build a sofa. That way people will get to know how the material quality looks in person.
Similarly, if you are a service provider, offer a free trial to the consumers or clients to give a taste of how beneficial your service could be to their lives or business.
People are more comfortable purchasing what they have been able to experience it first.
P.S: Providing free samples or service itself is a powerful tool.
Pro Tip:
This can be very effective especially your product service has very low reproduction cost e.g. software. Also, you can think about charging a negligible amount say $1 just for customers to understand that it is a complementary offer but you will be able to collect prospects, leads information.
Summary:
Well, that's the scoop: You don't particularly need to have a big budget to find success in marketing your small or huge businesses. Sometimes all you need is a little creativity and thinking out of the box.
Looking for best practices, pro-tips to grow your small business and leap forward to next height, subscribe to Fresh Proposals blog. It share information about sales techniques, sales proposals software, proposal writing, email marketing, content marketing, inbound marketing and more.